25 februar 2022
---
TwinBrain round table 1.0: WOMEN IN SCIENCE
An event held on 11 February, in conjunction with the International Day of Women and Girls in Science, held by the Institute for Kinesiology Research (ZRS Koper), was a round table entitled "Women in Science: The System of Equality  ≠  Equal Opportunities" at the Koper Theater. It was part of the TwinBrain project (TWINning the BRAIN with machine learning for neuromuscular efficiency, Spreading Excellence and Widening Participation (H2020-2018-2020).
From the standpoint of the participants, the discussion was centered around the question of whether the equality system represents equal opportunities for both genders. Dr. Saša Pišot, a research fellow from the Institute for Kinesiology Research, ZRS Koper, moderated the discussion.
Further content available HERE.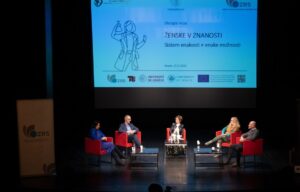 29 september 2021
---
TRIESTE NEXT: ZRS Koper and TwinBrain contributed to the crossroads of
science
Last weekend, for the tenth year in a row, Trieste became a crossroads of science. The jubilee edition of the Trieste Next event took place on Veliki and Verdi square, with as many as 200 lecturers performing live and the organizers prepared a 100 meetings and 200 accompanying events. At a lecture on Parkinson's disease in the field of neuroscience, robotics, and movement, the director of ZRS Koper, prof. Rado Pišot, PhD, and TwinBrain project manager,
Uroš Marušič, PhD.
Further content available HERE.
 8 july 2021
---
Koper has a new research laboratory in the field of motion neuroscience
A new laboratory, SloMoBIL: Slovenian Mobile Brain / Body Imaging Laboratory, already started operating within the Scientific Research Center (ZRS) Koper. Equipped with the latest technology to research neuromuscular efficiency, the lab will make an important contribution to conducting research aimed at an in-depth understanding of our brains during movement.
Further content available HERE.
 2 july 2021
---
Summer School of Motion Neuroscience
At the beginning of July 2021, a summer school entitled "NEUROSCIENCE OF MOVEMENT: EXPLORING THE DYNAMICS OF THE HUMAN BRAIN IN MOTION" took place in Piran and remotely through Zoom. The summer school was intended for doctoral and master's students in the fields of kinesiology, physiotherapy, psychology, cognitive science, biomedical engineering and other related sciences.
Further content available HERE.
22 APRIL 2021
---
TwinBrain Workshop 1.0: Mobile Brain/Body Imaging (MoBI)
The Berlin Mobile Brain/Body Imaging labs (BeMoBIL) at @TUBerlin will host the first MoBI workshop from May 25th to May 27th supported by the EU Horizon 2020 program (TwinBrain ID:952401). The workshop will be streamed live allowing for interactions among participants and presenters. Details and the workshop website will be launched in April.
May 25th: The workshop will start with a full day of background lectures on MoBI with a virtual lab tour of the Berlin Mobile Brain/Body Imaging Labs providing the opportunity to meet with researchers and to discuss specific MoBI research questions from hardware to theory.
Presenters will be @Janna Protzak, @SarahBlum, and @MartinSeeber, and @KlausGramann with a keynote on Tuesday by @DanFerris
Then, two days of hands-on modules follow.
May 26th: Hands-on modules will cover the topics
– "Brain Imaging Data Structure (BIDS) for MoBI data",
– "Data synchronization with the Lab-Streamin-Layer (LSL)",
– "MoBI data import and preprocessing",
– "Multimodal event extraction and data preprocessing", and
– "Clustering of MoBI data".
May 27th: Hands-on modules will cover the topics
– "Deconvolution of MoBI data – the unfold toolbox",
– "Gait analyses – biomechanical aspects", and
– "Gait analyses – brain dynamics".
We are very happy to have @BenediktEhinger, @OlafDimigen, @MartinSeeber, @BettiWollesen, @UrosMarusic, @SeinJeung, @MariusKlug, @JannaProtzak, @AnnaWunderlich to provide insights into the background and analyses approaches of the hands-on topics.
Looking forward to seeing you in May!
Interested in this workshop please send an email with your full name and affiliation to: MoBI-Workshop@protonmail.com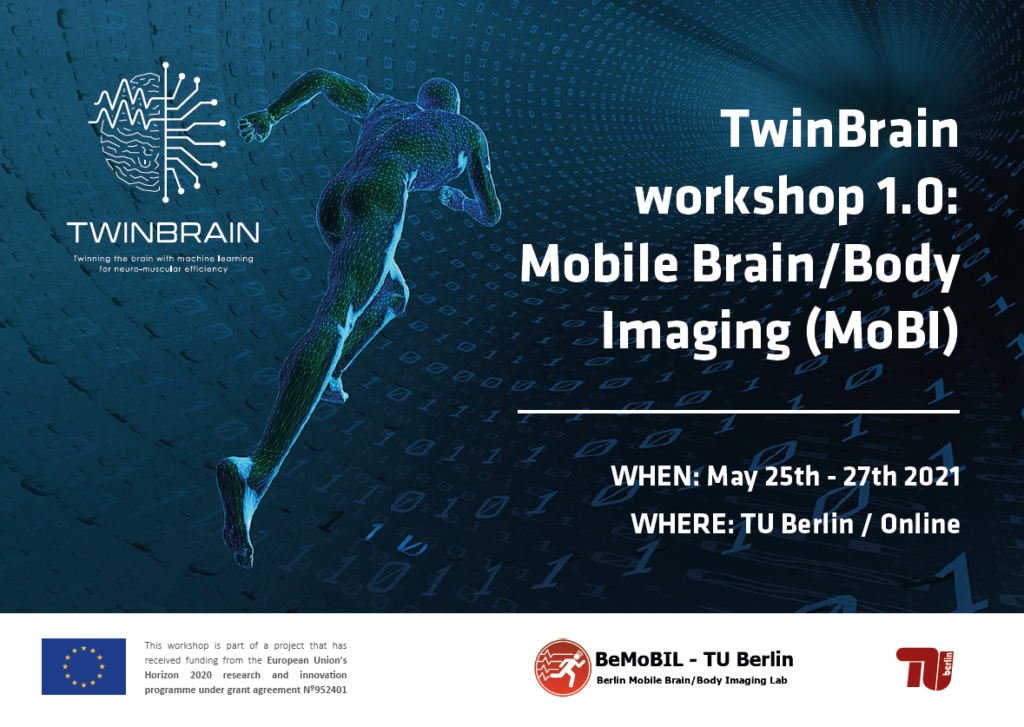 11 March 2021
---
Presentation of the TwinBrain project on RTV Slovenia
Dr. Uroš Marušič (TwinBrain Principal Investigator) presented activities of the TwinBrain project at the national TV on 24 February 2021 (online 11 March 2021) . Link to the interview:
https://4d.rtvslo.si/arhiv/s-prehodi/174760067
10 November 2020
---
Kick-off meeting of the TwinBrain project on 10 November 2020
Successful completion of the TwinBrain kick-off meeting and official start of the TwinBrain project.